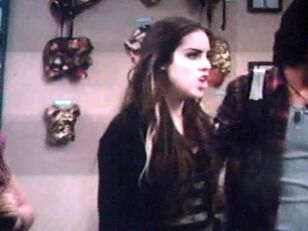 Full Name:
Jade West

Family:
Father: James West 
Mother: Jody West 
Brother: James West Jr

Romances:
Beck Oliver (present boyfriend)

Characteristics:
Even though she originally took on the role of a "mean girl," she fits more of the role of a "bad girl." Jade may follow Goth style, as she is often seen wearing black nail polish, black clothes, and black accessories, and has a rather dark outlook on life. She often gets props for her hard work at performing. According to Beck, Jade has a star tattoo on her right inner arm and has since gotten another one ("Jade's getting her new tattoo."). Jade also has multiple streaks in her hair, which change from time to time in color, and two piercings on her face (which she got 40 minutes after her mother told her not to.). She and Beck have matching necklaces. Based on TheSlap, she seems to have quite an obsession with Beck, her long time boyfriend of more than two years. This obsession started the rivalry with Lola. Jade assumed that Lola was trying to flirt with him and lashed out at her.
Her "mean girl" personality and jealousy of Lola may indicate that she harbors deep insecurities. She writes that she hates spring because of the allergies (among other reasons). Her favorite teacher at Hogwarts is Professor Sikowitz. She also seems to have very subtle ways of revenge. She said that if someone makes her seriously angry "...I won´t get in a fight with you, but I will retaliate in a way that´ll make you sad for a LOOONG time. a girl who accidently threw a cup of water at her begged her to: "Please don´t destroy me socially!" This implies Jade is rather high on the social hierarchy of Hogwarts. She has a macabre sense of humor as well as somewhat sadistic tendencies. During the Hunt for the Horcruxes,  Jade claims she doesn't sweat. She sweats for the first time ever when they are all stuck in Beck´s RV with temperatures of about 110 degrees and starts to cry afterwards. She has a collection of butterflies and several things in jars in her room. Jade is an extremely talented singer and  she sang a duet with Cat in a karaoke contest.

Search for the Horcruxes:
In the seventh year, she helped Harry and his friends find Voldemort's horcruxes. During the journey, Harry and Jade often fought and she often attacked him physically and by using her wand and firing spells at him. They often dueled each other on a daily bases.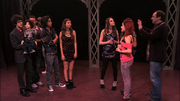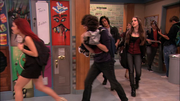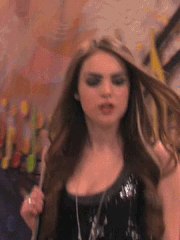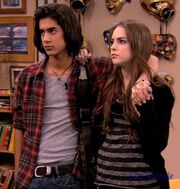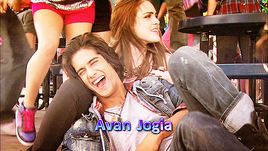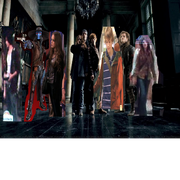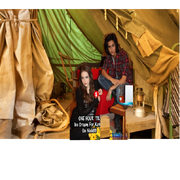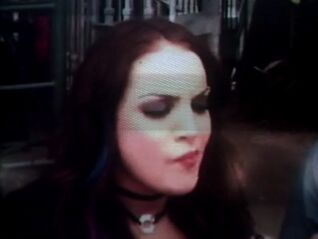 Battle of Hogwarts: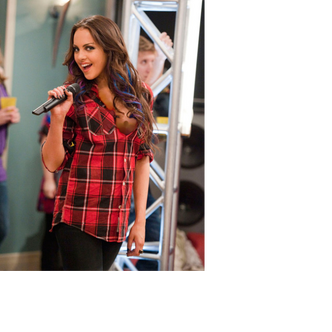 During the Battle of Hogwarts, Jade was killed by the Dark Lord, Voldemort because she didn't disclose the location of Harry Potter.
Relationships with Other Characters
Lola Martinez: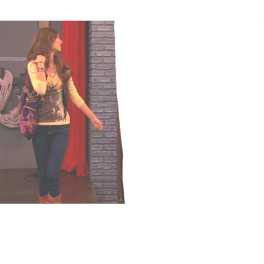 Jade appears to have had a rivalry with Lola ever since she spilled coffee on Beck´s shirt and tried to clean it. During their journey together, they seem to be developing a possible friendship, though she still displays a dislike for Lola. Cat Valentine: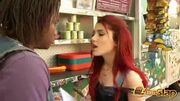 Cat and Jade's photograph after singing 'Give It Up' in Freak the Freak Out. Despite their opposite personalities, Jade and Cat seem to be very good friends. Each expresses concern for the other when they're hurt, and calls out the person who caused it. Jade is also less hostile towards Cat than towards most people.(Even though she did once say "Is it a device that can beam you to another table? Because if it is which button do I push?!!?! Cat is not as easily offended by Jade.
Beck Oliver: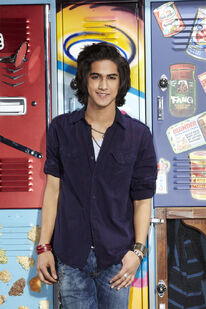 Beck is Jade's boyfriend of two years, over whom she is very protective. She doesn't like him talking to people(mostly just other girls) who she does not know and has trust issues with him. This doesn't
Beck kisses Jade in The Diddily-Bops Her obsession is made apparent when she sees Lola wiping coffee off of Beck's shirt and misinterprets the action as flirting. However, the couple are shown to be mutually in love on mulitple occasions. Despite his exasperation with her rudeness, Beck also clearly loves to tease and rile up Jade, either by making her jealous or letting her get carried away by her own theories.
André Harris: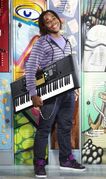 Jade doesn't seem to have a problem with André, but they are never seen interacting much, likely because of his friendship with Lola and Harry . They eat at the same table and talk amongst the same group of people. She does get annoyed by André from time to time. On the other hand they seem to be pretty nice to each other.
Sinjin Van Cleef: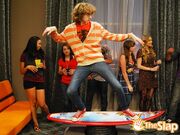 Sinjin has a massive crush on Jade, but she dislikes him very much.
Erwin Sikowitz: Jade claims that Sikowitz is her favorite teacher.
Robbie Shapiro [[File:Victorious-season-1-27.jpg|thumb|172px] Jade has been shown to dislike Robbie, and torture him. She has insulted him and Rex a couple of times, even tearing off Rex's arm with a smirk.
Harry Potter: [[File:Dh1_eonline_story_002_2_0001.jpg|thumb] Jade hates Harry the most. She always insultes Harry about his physical appearance. Harry has called her shallow at times because of this and the fact that she's dating Beck. She also calls him names like "Dork" or "Freak".
Ron Weasley: [[File:Article-1277671199104-0A394092000005DC-65174_466x310.jpg|thumb|202px] She dislikes him.
Hermione Granger: [[File:Dh1-036.jpg|thumb|214px] She dislikes her. She thinks she's a nerd.
Zoey Potter: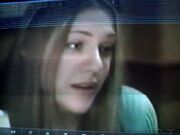 They don't get along. Chase Sparrow: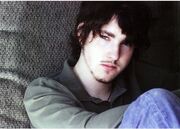 She thinks he's awkward.
Michael Barrett and Logan Reese:
She likes both of them. She thinks Logan is good-looking.
Quinn Pescky: She thinks she's a nerd.
Darcy Reese:
She's jealous of her(because Darcy's a cheerleader and very pretty) and she hates her. She thinks that Darcy likes Beck.
Eric Potter: She thinks that Eric's an idiot.
Peter Stone and his friends: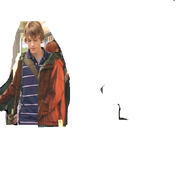 She's flirtatious around them
Mr. George Feeny: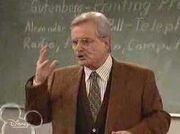 She's annoyed by him
Casey Jones: She's scared of him